Training Video Instructions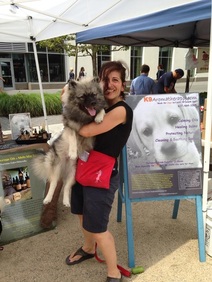 A Few Helpful Tips:
Train in a quiet room or area with limited distractions first

Move on more distractions slowly (inside lobby area then outside)

Practice daily for 1-5 minutes 3 times a day (meal times best)

Do 1-2 attention exercises before going outside and use these when outside

Treats - use kibble but also higher value for distractions
Sign language first then pair the word or cue
Stick, Drop, Push Criteria as needed
MARK the correct behavior!!!! always. If you don't have a clicker, say "click" or say "yes". Be consistent
Fold training into a lifestyle!
---
1. Attention. Charge the Clicker

Introducing the conditioned stimulus. Here we have the sound of the clicker. The dog learns when they hear the sound they get something yummy!

Equipment

acoustic marker (clicker)




small size soft treats

treat bag
2. Prompted Attention. "Name Game" (this is also used to start training recall, come when called)

Be Consistent

Make sure to use the same hand gesture and word.
Start with the hand signal
Repeat until reliable
Then, introduce the word then the hand signal. We are pairing the word with to hand sign language
Repeat and then test. Which does your dog know? Say the word no hand signal. Give your dog a few seconds, wait it out. If no action, drop criteria until s/he makes the connection.
3. Attention. "Look Game"

Making the connection to look at our eyes or face to communicate.

Practice Every Day

5 Times 5 minutes
Minimum 3 times 5 minutes
Meal times are the best time to practice
During TV Commercial breaks practice
Practice while walking outside
4. Attention. "Unprompted"

Make Training a Lifestyle

Use the same words and cues in different places, outside your home, at your friends house, while walking, your moms house
Reward our dogs for looking at us. The more we reward our dog with a smile, praise, petting, food treat when they do something we want i.e. look at me for attention instead of jumping or barking at me for attention, the more they will do the wanted behavior.


| | |
| --- | --- |
| 5. Impulse Control: Putting Equipment On Your Dog | We love any equipment that doesn't apply pressure to the neck. Our favorite as of late is the Freedom made by 2 Hounds. You can buy online or local upscale Dog Retail Store. No pressure on the neck, spinal cord and soft tissue. Always ask the dog to sit or stand. If you have learned wait use this command. If not, show the dog a treat and lure the harness over the head like you would a necklace. Then put some treats on the ground to distract as you secure the harness. |
Once attention and impulse control are solid we can move on to incorporating behavior training i.e. reactive on leash to dogs, people, skateboards etc.
Behavior adjustment training is a training methodology based on "functional analysis" and applied to behavioral psychology. It relies heavily on understanding stress signals and Canine communication. In recent years it has been introduced to dog training by dog trainer Grisha Stewart. The tools are applied to working with dogs who are reactive due to fear, frustration and or anxiety. We analyze the underlying reasons why the dog is reactive and help him or her meet their needs in other "Socially Acceptable" ways. These ways include walking away instead of lunging and barking. We use situations where there are choice points and reward the dog for choosing the correct choice (the non aggressive choice).
As a Behavior Adjustment Training Instructor Vivian is specially trained to work with dogs experiencing fear, aggression and anxiety. Generally speaking we analyze why the dog is reactive and help him or her meet their needs in other "Socially Acceptable" ways such as walking away instead of lunging and barking. It is important to understand changing behavior or modifying behavior
is a process that requires time and patience. There are
improvements but they are subtle. It takes time and patience on your part but it does work "incrementally". It is a reliable method that has helped rehabilitate dogs.
My goal as a Trainer is to TEACH YOU skills to improve your confidence, maintain a strong loving bond with your dog and learn to navigate and manage your dog safely in the city.
For more information see
www.functionalrewards.com
and
please call with questions at 617-464-1005
Find Our Shop!
​202 K Street
South Boston, MA 02127
617-464-1005
Located off East BroadwayCorner of East Broadway/E3rd

Business Hours
​In Home Private by appointment
Group Puppy Training by appt Weds & Friday evenings
All Services by appointment only
Insured & Bonded Services Business Insurers of the Carolina's


---

Disclaimer: Our service and products sold are not intended to diagnose, cure or prevent any disease. There is no guarantee of behavior change. If a sudden behavior or behavior persists, please first contact a qualified Veterinarian, Certified Applied Animal Behaviorist, DVM Behaviorist . The information provided by this website or this company is not a substitute for a face-to-face consultation with a veterinary health care provider, and should not be construed as individual medical or veterinary advice. The testimonials on this website are from individuals and do not guarantee or imply the same results.
---
© 2017 Boston K9 Concierge LLC