Shop BostonK9Concierge Online
Always aiming to support our personal belief in using reward based force free services and wholesome natural products! We are delighted to sell products that enrich the lives of those we and you care for. All Food, Treats, Equipment, Grooming and Aromatherapy products that we sell are personally selected and professionally used by BostonK9Concierge staff, business owner and professional dog trainers.
Boston K9 Concierge Delivers!
delivery on Tuesdays and Thursdays




Free delivery within 5 mile radius when purchasing minimum $50.00 order
202 K Street | South Boston, MA 02127 | 617.464.1005 | 9AM-7PM Monday - Saturday

K9 Calm Pet Care Products
Made Especially for Dogs. Promoting calm using Therapeutic Essential Oils. We formulate small batches of unique products intended to help promote calm and clean for your dog. Made especially for dogs all Therapeutic Grade Essential Oils and other ingredients used are natural and safe.
---
---
AutoTrainer™ Anti-Bark Treat Dispenser

The AutoTrainer teaches your dog not to bark by rewarding quiet time. The collar detects when your dog is barking using patented dual-detection technology, so only your dog's barks are recorded by the collar. When your dog isn't barking, he gets rewarded with treats or kibble from the food dispenser. Your dog will quickly learn to stop barking, and you can even track his progress with the bark history display screen. The dispenser spaces out your dog's meal, perfect for dogs who gulp their food or eat too quickly.
---
We carry psycho acoustic music to help dogs calm down in your car, and with separation anxiety when alone. Scientifically studied we know noise pollution creates stress and there is evidence that chronic stress is a cause of disease in our pets and ourselves. Findings are published in this book (includes a DVD) that we carry along with other Through A Dogs Ear DVDs

---

Snuggle Puppy & Snuggle Kitty™
We now carry Snugglepuppies a stuffed toy for your dog. Meant to provide comfort it comes with a "pulsing" heart beat and warmer packs to keep your pet company when you can't. Click on picture or above to purchase the product.




---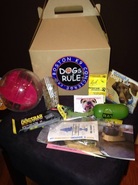 Doggie Gift Box for $75
This popular box is filled with all the basic pet care essentials is the perfect gift for your pet owning friend or one who soon will be!
Poop Dispenser and 15 Lavender scented bags

Mazzee kibble/treat dispensing ball (keeps pup engaged)




Dr. Bach Rescue Remedy (helps dogs reduce stress)




Through A Dogs Ear Music (made for all ages pups to adults)




Herbal Essence Lavender scented towelette

Choice of all natural Dog Treats (

DogsBar Treat for Pets OR

PolkaDogBakery Sfitzi in duck or chicken)
---
Find Our Shop!
​202 K Street
South Boston, MA 02127
617-464-1005
Located off East BroadwayCorner of East Broadway/E3rd

Business Hours
​In Home Private by appointment
Group Puppy Training by appt Weds evenings & Saturday morning
Daycare Training Camp Tues, Weds, Thurs 10-2PM
Sunday Closed

All Services by appointment only
Insured & Bonded Services Business Insurers of the Carolina's


---

Disclaimer: Our service and products sold are not intended to diagnose, cure or prevent any disease. There is no guarantee of behavior change. If a sudden behavior or behavior persists, please first contact a qualified Veterinarian, Certified Applied Animal Behaviorist, DVM Behaviorist . The information provided by this website or this company is not a substitute for a face-to-face consultation with a veterinary health care provider, and should not be construed as individual medical or veterinary advice. The testimonials on this website are from individuals and do not guarantee or imply the same results.
---
© 2017 Boston K9 Concierge LLC