Shop K9Aromatherapy
Our products are formulated in small controlled batches to preserve integrity. A little goes a long way. Follow directions listed on products. For external topically use only. Shake well before use as natural contents will settle. Expiration is one year from formulation listed on the bottle. We use the finest quality Therapeutic Grade Essential Oils, Beeswax and Oils sourced from around the world. Disclaimer: The statements made on this website have not been evaluated by the FDA (U.S. Food & Drug Administration). Our products are not intended to diagnose, cure or prevent any disease. If a condition persists, please contact your Veterinarian or DVM Behaviorist . The information provided by this website or this company is not a substitute for a face-to-face consultation with a health care provider, and should not be construed as individual medical or veterinary advice. The testimonials on this website are from individuals and do not guarantee or imply the same results
---
Healing: Boo Boo Balm & Paw Protection
This amazing salve is made especially for dogs and safe enough for people too! formulated in small batches using unique and therapeutic grade essential oils, beeswax, nut oils and Vitamin E to naturally preserve this beautiful blend naturally. Used as a healing and protecting balm you may apply liberally to dry Paws, Skin, Ears. Massage on your dogs chest, coat. And while you're at it, apply to your lips and hands to smooth and heal skin naturally. This blend is quickly absorbed by skin to leave a soft subtle feel. We add thoughts of love and sprinkle in some kindness for good measure. All ingredients are natural to help promote and support good health. Your dog and you will smell like heaven! Sold in amber 2 and 4 oz glass jar that will last forever! Price includes Mass tax. Shipping not included.
Calming Oils & Spray

| | | |
| --- | --- | --- |
| Promoting Calm Naturally, these potions are formulated in small batches to preserve integrity. Made especially for Dogs and used to promote calm they are ideal for stressed and anxious dogs due to visiting the vet, groomer, being separated or need a little help chilling out. We recommend applying only a few drops (1-6 depending on size) and warming in your hands before massaging on to your Dog. The mist is amazing and only a few pumps sprayed on your dogs chest or above the head. You'll both be feeling | | |
---
Our Boo Boo Soothing Spray is a first aid potion that contains natural anti -bacterial, anti-puritic properties. It is especially soothing for inflamed skin and the emotions that often accompany discomfort. Use to wipe skin folds where we typically find bacteria festering, to clean ears and paws. Comes in 8 and 2 oz glass spray bottle, 4oz Glass Bottle with 15 Saturated Pads.
Our line of topical Pet Care and Wellness Products was developed especially for Dogs needing relief from stressful events including vet and grooming visits, car rides and your absence, to help protect and heal and also repel pesky little bugs. Formulated in small batches by Vivian Zottola, Owner and Certified Professional Dog Trainer of Boston K9 Concierge studied and then began using aromatherapy products in her private dog behavior training practice to help promote calm in dogs needing to focus. The challenge of finding natural remedies to help reduce stress in behaviorally challenged dogs and healing her own dogs skin was challenging and so she decided to develop and use her own products. After successfully sharing with friends and clients she has decided its time to share with everyone else. All ingredients used are safe for dogs over 12 weeks of age.




Rescue Cream

This product may be safely used on people and their pets. It helps sooth and heal the skin. Rescue Cream is an intensive moisturizer designed to soothe dry irritated and damaged skin caused by stresses and strains of every day life. This creme helps promote healing of irritated or damaged skin. A combination of six of Bach original flower remedies, this is a soothing cream that can be applied to hands, body, face or paws. price does not include tax. Delivery free of charge
Rescue Remedy for Pets - Bach Original Flower Remedies natural calm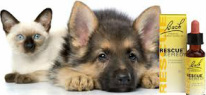 I adore this blend of five Bach Original Flower Remedies for pets so much I'm now working toward becoming a Certified Bach Animal Practitioner!

This remedy in particular is known to be as helpful with animals as it is with people for over 70 years. The Rescue Remedy for pets is alcohol free and can be used for an immediate calming effect in any stressful situation or when your pet needs help overcoming a variety of emotional or behavioral problems. It includes 6 essential flowers. The way to administer is to either add a few drops to water, add to a treat OR what I like to do is apply while messaging pets ears, paws and nose! This is good for fear of loud noises, excessive barking/hissing, loss of companion, adapting to new surroundings, going to the vet or any other place your pet exhibits stress. Used in combination with a behavioral training treatment plan or on its own, this is my first go to product when working with stressed animals. I use the human version when feeling stressed. Its works wonders. Following a vets evaluation to rule out any medical or

neurological

causes we will use this natural treatment to help keep pet dogs calm. If your pet continues to exhibit stressful signs we suggest you consult with a DVM that specializes in behavior.

Price does not include tax. Products delivered only in a 2 mile radius from shop

Find Our Shop!
​202 K Street
South Boston, MA 02127
617-464-1005
Located off East BroadwayCorner of East Broadway/E3rd

Business Hours
​In Home Private by appointment
Group Puppy Training by appt Weds evenings & Saturday morning
Daycare Training Camp Tues, Weds, Thurs 10-2PM
Sunday Closed

All Services by appointment only
Insured & Bonded Services Business Insurers of the Carolina's


---

Disclaimer: Our service and products sold are not intended to diagnose, cure or prevent any disease. There is no guarantee of behavior change. If a sudden behavior or behavior persists, please first contact a qualified Veterinarian, Certified Applied Animal Behaviorist, DVM Behaviorist . The information provided by this website or this company is not a substitute for a face-to-face consultation with a veterinary health care provider, and should not be construed as individual medical or veterinary advice. The testimonials on this website are from individuals and do not guarantee or imply the same results.
---
© 2017 Boston K9 Concierge LLC