DOG WALKING requires patience and safety

Walking dogs may seem like an easy task to most and while a degree is not required take it from us it is work that requires focus, ability for creative problem solving, experience and consideration that is always safety first. All of our walkers are insured & bonded and are trained by management. Following is our short list of the things we like to practice when dog walking..

1. Be Observant of your environment - cigarettes, chicken bones, cars, exuberant kids
2. Become Informed of dog body language - helps avoid any approaching conflict
3. Be Patient to allow your dog to enjoy their time out, smelling and taking in information
4. Be Compassionate use only gentle equipment, no adverse collars, not pull and tug
5. Be Considerate of your neighbors & neighboorhood by picking up your dog poop!
---
Training Tip: Safer Equipment


Did you know using the wrong walking equipment will actually cause collapsed trachea and glaucoma in dogs? Glaucoma can cause blindness.
CLICK HERE TO LEARN
more about what's safe and what's not and why. Written
by a highly respected DVM, Dr of Veterinary Medicine and Behaviorist, Dr. Sophia Yin, DVM MS
---
Walking Your Dog In The City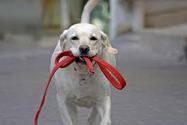 Your dog would love to be free from a leash walking by your side or roaming around sniffing for a few minutes only to catch up to you while you walk ahead. Yes, that would ideal in the countryside BUT we live in the city. There are dogs everywhere!! And we have leash laws as well as safety concerns for a reason. Moving vehicles, broken glass, chicken bones thrown on sidewalks, brocken glass, toddlers walking with mom, untrained or fearful dogs (and people), un neutered/spayed dogs, squirrals hopping around and the list goes on. Keeping your dog on leash is definitely a must when living in the city BUT you don't need to use adverse equipment to keep your dog behaved..
If your dog lunges or pulls while you walk them please consider training your dog for loose leash walking using positive reinforcement techniques. If you don't know how or don't have the time then hire someone. Its really worth the investment. Ask yourself the question - have you ever trained your dog to walk? If yes, then are you practicing what you learned or did you get lazy? Does your dog walk you? Is it ALWAYS pulling arghhh??? Do you know why? Yes, because you've trained them too walk that way. Dogs need to smell since this is their primary way to take in information but you can control the walk. Loose leash walking is easy to practice with your dog and ONLY requires you tweak a few things in your routine, be patient and invest some time with your dog instead of rushing for 10 minutes to squeeze in a relief walk because you need to hurry up to get somewhere else. It doesn't happen overnight but it can happen.
Unfortunately we like quick fixes and this includes walking our dogs. So what most people do is buy equipment that is for lack of a better word adverse. If you are using - choke collar, prong collar, pinch collar, shock collar and/or tugging and popping at leash, while walking your dog - it is abusive. Yes it is and please stop! Unfortunately for your poor dog you were missinformed and unbeknownst to you, you are being very abusive and hurtful to your dog. You are actually creating a fearful experience. You may be thinking, well I need to use the prong because my dog is so strong and pulls me OR, its a quick corrective measure and really doesn't hurt- its only a simple tug. Not so, these equipement ARE uncomfortable and painful for your dog. Many a vet has explained a horrible experience involving a prong with me. These type of equipment are unneccessary simply because there are alternative methods and equipment that are designed to be humane. All around kindness works better in the long run - you can use treats, praise etc to move your dog along. Sure it takes more time from you but your dog will be more balanced, less stressed and more important you won't be creating a reactive monster.
While I hate to say there is a place for prong collars, they should only be used very short term if that. The problem using adverse collars long term (and I see them all around town being used every day) is that you inadvertantly reinforce the exact unwanted behavior you are looking to stop. It's a catch 22 really.., when you tug at your dog and they feel pain - you are marking a negative association - a negative experience. And you may be thinking, ....well by tugging at the prong my dog will associate pain with pulling so they won't pull. But thats not how it works. Instead what you're doing is creating an association between the thing they are focusing on going toward and pulling with pain. This translates in their mind to what ever that thing is they are looking at is now a bad thing. Woof!!
Tugging on the collar and creating pain is marking a negative associate. Using humane equipment including the
Martingale Collar, Easy Walk harness, Tellington Balance Harness
- and or combine these equipment with
practicing loose leash walking techniques including marking behaviors with click/treat
- will instill an enjoyable walk for both you and dog. Yes, this is not a quick fix sorry. You will be focusing on your dog walks instead of texting or talking on the phone. And yes, it will require you investing a little bit of your time instead of squeezing in 15-20 minute walks after work BUT the point is you'll be creating a better bond with your dog AND enjoying your walks! Isn't that what you really want?
See our favorite choices for dog walking equipment

We are hopeful this information was useful. Please call (617-464-1005) or
email
us if you have questions, need training for reactive behaviors and/or help with loose leashing walking. We provide coaching and in home training (you work or play and we train your dog - then transfer the knowledge to you).
---
Find Our Shop!
​202 K Street
South Boston, MA 02127
617-464-1005
Located off East BroadwayCorner of East Broadway/E3rd

Business Hours
​In Home Private by appointment
Group Puppy Training by appt Weds evenings & Saturday morning
Daycare Training Camp Tues, Weds, Thurs 10-2PM
Sunday Closed

All Services by appointment only
Insured & Bonded Services Business Insurers of the Carolina's


---

Disclaimer: Our service and products sold are not intended to diagnose, cure or prevent any disease. There is no guarantee of behavior change. If a sudden behavior or behavior persists, please first contact a qualified Veterinarian, Certified Applied Animal Behaviorist, DVM Behaviorist . The information provided by this website or this company is not a substitute for a face-to-face consultation with a veterinary health care provider, and should not be construed as individual medical or veterinary advice. The testimonials on this website are from individuals and do not guarantee or imply the same results.
---
© 2017 Boston K9 Concierge LLC