Behavior Dog Training Services for City Living
Supporting fear free, force free & humane training services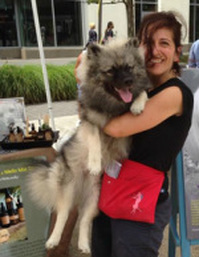 "I am proud to provide dog guardians Behavior Training Services and products. When we consider non verbal dogs are cooperative and social by nature and have proven to understand what actions our human language mean through training +Reinforcement practice then ask yourself why would we want to use alternative ways (pain and force)? Why not train using positive motivations? Force free training allows for predictability, enrichment, and enhances the human-dog bond. It also helps keep the community safe which takes me full circle to the reason I began working in this profession....Helping guardians learn Dog Communication and Training which directly affects a reduction in the number of surrendered pets to shelters each year. Please adopt locally, and consider training with a professional who uses +R and fear free equipment and techniques. Your dog will love you for it."
​​Vivian Zottola, Business Owner, CPDT, CSAT, CBCC
​Certified Professional Dog Trainer & Behavior Consultant
---
Teaching "Dog" to people as a Second Language"
"....I would not call what Vivian does "Dog Training", but more "People Training". Within that first week, we were already noticing vast improvements in Bugsy's mood and we had learned to anticipate when he was approaching his "red zone". His anxiety upon us leaving the house became much better since we learned how to condition him that our leaving isn't a bad thing and giving him things to occupy his time alone. Since making these life changes, Bugsy's life has become a much happier one which makes our lives much happier, too!"- Tracey K. Somerville, MA
---
---
What is Positive Reinforcement Behavior Training?
Ask about the discounts I offer as a participant of Project

tRade,

the Pet Professional Guild's (PPG) international advocacy program that promotes the use of force-free pet training equipment by asking pet guardians to swap choke, prong and shock collars (and any other devices that are designed to change behavior through pain or fear). You will receive a 15% discount on my training services!

More here

---
Here's a short demonstration of Huck, a 4 month old golden doodle and his guardian and best friend Mike asking him to go to bed/place. Huck graduated from my six week puppy training program. We used clicker training and learned the fundamentals of "Dog As A Second Language". My aim is to help you build a lasting and rewarding relationship with your dog for life! Call us for more information
​617-464-1005.