Dognition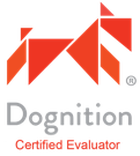 What is Dognition and how does it help with Training?
Dognition is a science based website developed by leading scientists in the field of canine cognition from around the world including
Brian Hare, founder of the Duke Canine Cognition Center, Dognition's Scientific Advisory board includes Adam Miklosi, Director of the Family Dog Project at Eotvos Lorand University in Hungary, and Julianne Kaminiski Director of the Dog Cognition Center at the University of Portsmouth in the UK.
Why Test Your Dog:
Dognition offers Dog owners a way to Test their dogs on how they learn and then proceeds to offer monthly games tailored to your dog as well as information. The Testing Games are designed to help you (and your professional trainer) better understand how your dog communicates. As a Behavior Dog Trainer knowing what motivates your dog allows me to tailor a training program better suited to how your dog learns.
Some dogs rely more on sound or visual communication, some have the ability to reason and others rely more on memory so knowing how your dog learns gives a trainer fresh insight into your dogs motivation and behavior.
Whether a Trainer tests your dog or you do this on your own knowing the information allows us to create a better dialogue and successfully communicate with their best friends and roommates!
How Does It Work
The overall Test "
Dognition Toolkit
"is made up of 5 games to test for 1) Empathy, 2) Communication 3) Cunning 4) Memory. While younger dogs do have cognitive abilities for accurate results its recommend that your dog be over 7 months old because pups will struggle with a few of the testing games. It generally takes anywhere from 15-20 minutes per Test so expect to spend a minimum 60 minutes.
What You Need:
2 people (one to place the treats, and one to hold the dog during game play)
Sticky notes
2 non transparent cups (same shape, size and color)
Treats (about 14 per set of games)
Bowl of water for the dog
A small space indoors with limited to no distractions
Clients Receive a Discount Code
(call 617-464-1005)
---
Find Our Shop!
​202 K Street
South Boston, MA 02127
617-464-1005
Located off East BroadwayCorner of East Broadway/E3rd

Business Hours
​In Home Private by appointment
Group Puppy Training by appt Weds evenings & Saturday morning
Daycare Training Camp Tues, Weds, Thurs 10-2PM
Sunday Closed

All Services by appointment only
Insured & Bonded Services Business Insurers of the Carolina's


---

Disclaimer: Our service and products sold are not intended to diagnose, cure or prevent any disease. There is no guarantee of behavior change. If a sudden behavior or behavior persists, please first contact a qualified Veterinarian, Certified Applied Animal Behaviorist, DVM Behaviorist . The information provided by this website or this company is not a substitute for a face-to-face consultation with a veterinary health care provider, and should not be construed as individual medical or veterinary advice. The testimonials on this website are from individuals and do not guarantee or imply the same results.
---
© 2017 Boston K9 Concierge LLC