Dog Training
| | |
| --- | --- |
| Occupational License for Pet Dog Trainers: Abstract: "In the United States anyone can work as a dog trainer, regardless of the person's qualifications. Scientific research in animal behavior and canine ethology indicate how to humanely train dogs, but nothing in the law requires that dog trainers apply these proven methods in practice. Dog trainers may use training techniques that bring harm to dogs and deceive consumers as to its efficacy. The onus is on consumers to educate themselves to these dangers when selecting a "qualified" dog trainer. In this article, the author calls for a new approach to the profession of dog training in which state and local governments protect consumers and their cherished animal companions from "hacks" through an occupational license requirement. The author provides a model statute that can be used to protect the well-being of dogs undergoing training, as well as providing much needed consumer protection." Read full document below. | |
There are two types of trainers, those who add force, fear, pain and those who do not.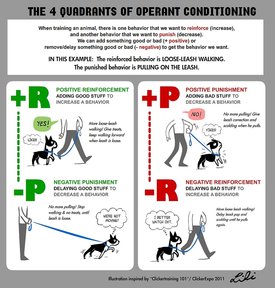 Dog Training and helping an animal improve or change behaviors requires a complex set of skills. An understanding of the sciences including learning theory, ethology, equipment and husbandry. Further with Behavior Training an understanding of Applied behavior analysis, Consulting Skills and Best Practices, Ethology, Body Language, Observational Skills, Health, Development, Life Stages, Anatomy and Physiology. Beyond formal training there is practical training relying on a keen eye, patience and empathy for the learner. Dog training professionals use Classical Conditioning (Pavlov) to help individuals change emotions and how they feel about something. For example, give me $100 every time I go to the dentist and the experience of going to the dentist will feel just a little better and better every time. Operant Conditioning (Skinner) is the "body mechanics" of learning behaviors and it is used to counter condition or help change behaviors - i.e. sit instead of jumping up on my leg for example.
​There are basically 2 different types of trainers and they boiled down to those who "ADD" force and/or pain and those who do not.
In the Training world we use the terms "Positive" and "Negative" similar to the science of mathematics adding (+) or subtracting (-) . "Punishment" means to "decrease a behavior".
Take note that there are always TWO opposing BEHAVIORS going on at the same time if one is being reinforced and one is being punished.
Positive Reinforcement is often paired with Negative Punishment (+R + -P)
Positive Punishment is most often paired with Negative Reinforcement (+P + -R )
The trainer who use force and/or pain (+P, -R) does so because the methods work quickly. "WOW the dog stopped barking when I yanked or popped the collar, squirted water in its face, or yelled at them and held their muzzle shut." Adding force or pain does nothing to help the animal learn new improved behaviors that is to change behavior it just causes a decrease in the behavior of barking in this case. It does not teach an alternative choice that will satisfy the individual equally or more. Worse by applying +P or -R (fear, pain) it ends up breaking the human-dog bond - that sanctity of trust between man and animal. The canine becomes confused and fearful of its teacher or guardian. Stress, anxiety ensue and if prolonged mental health issues such as phobias develop
The trainer using (-P, +R) teaches the canine to learn alternative behaviors based on the individuals motivations. Yes it takes longer and requires patience but the end result is an individual that uses its brain energy to problem solve and learn. The dog is relaxed, learning, happy and more important the human-dog bond is not broken. The dog trusts its person and humans in general.
An explanation of the 4 Quadrants of Operant Conditioning:
Positive Reinforcement: +R = Adding anything good that your dog will work for. Good =Treats, praise, toys, smelling. Goal to increase a behavior.
Negative Punishment: -P= Removing or Delaying the good things. Goal to decrease a behavior. The "Time Out" is a great example (15 mississippi seconds)
Positive Punishment: +P = Adding bad things like a shock, leash pops, yelling, squirt bottle. Goal to decrease a behavior.
Negative Reinforcement: -R: = Delaying or escaping something bad (shock, leash pop, scolding etc) to increase a behavior. Like a "Warning" ​​
---