This months' favorite reads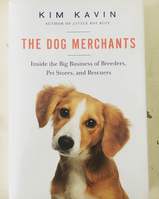 Like it or not, dogs are a commodity in our country and around the world. The business of buying and selling dogs averages about $11 billion dollars per year according to the wonderful research done by Kim Kavin in her book,"The Dog Merchant". And there are a host of supporting mechanisms in place to perpetuate this booming sector in our economy. A staggering fact is, an estimated 2 million dogs (many of whom are behaviorally sound) are killed each year by our tax dollars. This is a well researched book and an eye opener for many. I HIGHLY recommend it to all dog lovers.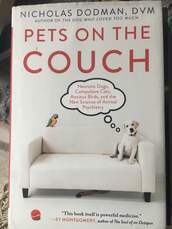 Dr. Dodman DVM breaks new ground with the practice of One Medicine, the profound recognition that humans and other animals share the same neurochemistry, and that our minds and emotions work in similar ways. Fear, anxiety, stress and genetics contribute to the same underlying conditions their humans experience. You'll read about
astonishing cases from animals with autism, OCD, epilepsy and other mental health conditions. This book emphasizes the similarities rather than differences between animals and humans and how we can help.
My Library
The professional and personal library of books I've listed below are for your reference in case you find useful. Many were required readings for certifications and workshops I've attended over the years and many personal interest. All are still in print and can be purchased online or at your local bookstore. They are not in chronological or alphabetical order (yet)
CANINE SCIENCE:
GENETICS, NEUROSCIENCE, COGNITION, PSYCHOLOGY, ETHOLOGY, ANATOMY, OLFCATION
The New Knowledge of Dog Behavior; Clarence Pfaffenberger
Genetics and the Social Behavior of the Dog, John Paul Scott & John Fuller
Why Zebras Don't Get Ulcers, Guide to stress, Stress Related Disease & Coping, Zap
The Neurobiology of Olfaction; Anna Minini
Zoobiquity What Animals Can Teach Us About Health and The Science of Healing; Barbara Natterson-Horowitz MD & Kathryn Bowers
Unlocking the Animal Mind; Frnaklin D. McMillan DVM
Pets on the Couch, Nicholoas Dodman, DVM
Dogs Behaving Badly An A-Z Guide to Understanding & Curing Behavioral Problems in Dogs; Dr. Nicholas Dodman
Manual of Clinical Behaviorial Medicine for Dogs and Cats; Karen L. Overall
Canine and Feline Behavior for Veterinary Technicians and Nurses; Julie Shaw & Debbie Martin
Decoding Your Dog; American College of Veterinary Behaviorists
Animal Madness; Laruel Braitman
Super Coooperators, Altrusim, Evolution and Why We Need Each Other to Succeed, Martin Nowak
Social-Why Our Brains Are Wired to Connect, Matthew Lieberman
Are We Smart Enough To Know How Smart Animals Are?, Frans De Waal
The Animal Manifesto-Six Reasons for Expanding Our CompassionFootprint; Marc Bekoff
Dogs, Raymond Coopinger and Lorna Coppinger
The Social Dog Behaviour and Cognition; Edited by Juliane Kaminski
Domestic Dog Congnition and Behavior-The Scientific Study of CAnis familiaris; Alexanra Horowitz editor
Emotion and Decision Making Explained, Edmund Rolls
Dog Body, Dog Mind- Dr. Michael Fox
The Genius of Dogs - How Dogs Are Smarter Than You Think; Brian Hare & Vanessa Woods
The Emotional Lives of Animals; Marc Bekoff
The Healing Touch for Dogs-The Proven Massage Program; Dr. Michael W.Fox
Research Methods in Applied Behavior Analysis; Jon Bailey, Mary Burch
The Fairness Instinct-the Robin Hood Mentality and Our Biological Nature, L.Sun
Inside of a Dog, What Dogs See, Smell and Know; Alexandra Horowitz
Dog Behaviour, Evolution, and Cognition; Adam Miklosi
The Feelings of What Happens; Antonio Damasio
Learning to Smell Olfactory Perception from Neurobiology to Behavior, Donald Wilson & Richard Stevenson
Olfaction, Taste and Cognition; Edited by Catherine Rouby, Benoist Schaal et a
Zen and the Brain; James H. Austin M.D.
The Whole New Mind-Why Right Brainers Will Rule the Future; Daniel Pink
Looking for Spinoza - Joy, Sorrow, and the Feeling Brain; Antonio Damasio
Self Comes to Mind- Constructing the Conscious Brain; Antonio Damasio
Listening to Scent; Jennifer Rhind
TRAINING SCIENCE & MECHANICS
How Dogs Learn, Mary Burch, PhD and Jon Bailey PhD
Handbook of Applied Dog Behavior and Training Procedures and Protocols; Steven Lindsay
Handbook of Applied Dog Behavior and Training- Etiology and Assessment of Behavior Problems; Steven Lindsay
Handbook of Applied Dog Behavior and Training Application and Learning; Steven Lindsay
Dont Shoot the Dog, Karen Pryor
Excelerated Learning, Explaining how dogs learn & how best to teach them, Pamela Reid
Treating Separation Anxiety in Dogs; MAlena DeMartini-Price
Behavior Adjustment Training; Gricia Stewart
The Dog Aggression System; Jackie Ferrier
Train to Adopt: Humane Guidelines and A Training Program for Dogs in Shelters; Sue Sternberg
Training The Companion Dog DVD, Dr. Ian Dunbar
Puppies Are they Really Clean Slates DVD; Sue Sternberg
Mexico City Dogs of the Dump A look at resource interactions; Sue Sternberg
Curious Behavior; Robert Provine
The Culture Clash, Relationship between humans and domestic dogs, Jean Donaldson
Feisty Fido; Patricia McConnell
The Cautious Canine; Patricia McConnell
Reaching the Animal Mind; Karen Pryor
Kan Ramirez; Reinforcement Strategies How to Use Non-Food Reinforces Effectively
Both Ends of the Leash; Patricia McConnell, PhD
Creating the Perfect Puppy DVD; Dr. Sophia Yin
How to Behave So Your Dog Behaves; Dr. Sophia Yin, DVM, MS
Pet Dog Problem Dogs, High Performance Dogs-How Science Can Take Your Training to a New Level; Dr. Sophia Yin DVM MS
​
DOG ECONOMICS & ETHICS
The Dog Merchants, Kim Kavin
The Ethical Dog Trainer, Jim Barry
Successful Dog Adoption; Sue Sternberg
OTHER
The Company of Wolves; Peter Steinhart
Dog Food Logic-Making Smart Decisions for Your Dog in an Age of Too Many Choices; Linda Case, M.S.
Outliers; Malcolm Gladwell