Toys. Toys. Toys!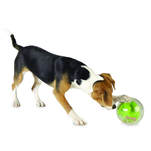 Dogs rely on us to provide them with enriching mental stimulation and we do this by turning on the radio to classical music, or cable to DogTV.com, semi hiding a food/treat toy for them to discover and work on is also stimulating. Chewing we know is a stress reliever and while chewing can be helpful it can also be frustrating. Just like us, dogs become bored and for some, day care is not a suitable option. Following are products I've personally tested for ease of use from a consumer and training perspective. I think these area all fantastic tools and a good value for the money. All of these are used by me when coaching clients, training dogs and when board and training dogs. Depending on what behavior it is we are looking to modify, some would be more conducive than others. All of these products provide assistance with training our dogs and reduce boredom when home. If you have questions about how to use these products from a training perspective please feel free to call me anytime. My office 617-464-1005.
---
Treat and Train

Love love love this simple yet powerful automated treat dispenser. Designed by Dr. Sophia Yin, DVM Behaviorist, we can use this to teach dogs not to bark or jump on people coming in the home and lots lots more!

---

Designed by neuroscientists who love dogs and cats, CleverPet is a game that uses sequences of lights to engage the pet offering rewards when they make the right choice. Its brilliant. Come by the shop for a live demo we have them in stock. Or go on line to find

out more about CleverPet

---
Designed by Drs Ian Dunbar, DVM Behaviorist and John Watson, this product helps dogs learn not to bark by feeding them when they are quiet. Thats right. It senses when the dog barks or not and also collects information so you may share with your neighbors. An ingenious force free, pain free way to teach quiet.

More information here
Pet Tutor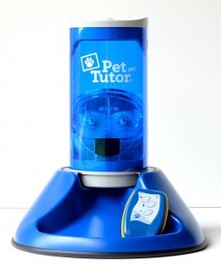 Find Our Shop!
​202 K Street
South Boston, MA 02127
617-464-1005
Located off East BroadwayCorner of East Broadway/E3rd

Business Hours
​In Home Private by appointment
Group Puppy Training by appt Weds & Friday evenings
All Services by appointment only
Insured & Bonded Services Business Insurers of the Carolina's


---

Disclaimer: Our service and products sold are not intended to diagnose, cure or prevent any disease. There is no guarantee of behavior change. If a sudden behavior or behavior persists, please first contact a qualified Veterinarian, Certified Applied Animal Behaviorist, DVM Behaviorist . The information provided by this website or this company is not a substitute for a face-to-face consultation with a veterinary health care provider, and should not be construed as individual medical or veterinary advice. The testimonials on this website are from individuals and do not guarantee or imply the same results.
---
© 2017 Boston K9 Concierge LLC
Photo used under Creative Commons from InMyEyes88