Training is an ethical decision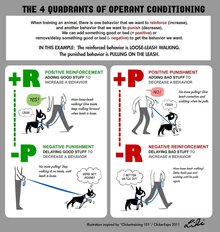 Training professionals use Classical Conditioning (Pavlov, used for changing emotions) and Operant Conditioning (Skinner for changing behaviors - sit instead of a jump).
In Training world we use the terms "Positive" and "Negative" similar to mathematics adding (+) or subtracting (-) . "Punishment" is "decreasing a behavior" . There are always TWO opposing BEHAVIORS going on at the same time if one is being reinforced and one is being punished. Positive Reinforcement works with Negative Punishment (+R + -P) and Positive Punishment works with Negative Reinforcement (+P + -R ).
4 Quadrants of Operant Conditioning:
Positive Reinforcement: -R = Adding anything good that your dog will work for. Good =Treats, praise, toys, smelling. Goal to increase a behavior.
Negative Punishment: -P= Removing or Delaying the good things. Goal to decrease a behavior. The "Time Out" is a great example (15 mississippi seconds)
Positive Punishment: +P = Adding bad things like a shock, leash pops, yelling, squirt bottle. Goal to decrease a behavior.
Negative Reinforcement: -R: = Delaying or escaping something bad (shock, leash pop, scolding etc) to increase a behavior. Like a "Warning" ​
​There are different types of trainers and they basically boiled down to those who use force and pain and those who do not. While adding force and pain (+P, -R) seems to the lay person to work quickly interrupting behavior, it does nothing to
change
the behavior and furthermore doesn't teach the animal an alternative choice (that will satisfy the individual). Worse using +P or -R breaks the human-dog bond of trust because the animal becomes confused and fearful of its teacher or guardian. Instead the teacher/trainer using (-P, +R) teaches alternatives. Yes it takes longer and requires patience but the individual uses its brain energy to problem solve, learning based on personal motivations. More important the human-dog bond is not broken. The dog trusts its person and humans in general.
Training Tips
Training Tips PDF DownloadsExercise Physical & Mental (includes Worksheet):

Dogs are a lot like children. If you don't give them something fun to do, they will make their own fun and

often not in ways you approve of.

Give your dog plenty of physical and mental exercise, and you get a happier, healthier, better-behaved dog.

Well-exercised dogs bark less, chew less, sleep more, and rest easier if left home alone.

Starting out right:

tools and information to consider before bringing home your new family member.

Building Motivation:

Motivation answers the quetion "what's in it for the dog". If you control what motivates your dog, you give him good reason to pay attention to you, i.e. to want to do

what you want him to do. It's the equivalent of saying to your dog, "I'll tell you what: If you sit, I'll throw your ball"

Nothing for Free:

A training strategy that uses everyday situations to reward good manners and practice obedience without

setting aside hours of special practice time.

Time Out:

a useful technique used to teach a dog to stop doing something we don't like, just like you would do with a child
Tellington TTouch™…for a change


Does your dog behave in ways you wish were different or have habits you wish you could change??

TTouch consists of light, non-invasive massage movements and guided walking exercises designed to enhance the mental, emotional and physical wellbeing of your dog, cat or other companion animal. TTouch exercises improve an animal's confidence, balance and focus, relieve stress and fear, and allow thinking before reacting, thus breaking the cycle of repetitive behavior patterns. Developed more than 30 years ago by internationally renowned equestrian trainer, Linda Tellington-Jones, this work complements massage therapy, veterinary care, training, and behavior modification while creating a deeper rapport between humans and animals through increased understanding and more effective communication.

Tellington TTouch Method consists of light, non-invasive massage movements and guided walking exercises that are easy to learn and use. These movements effect the body's nervous system, resulting in increased awareness and range of motion, tension and pain reduction, and a re-patterning of habitual ways of holding the body which can have a profound effect on behavior.

Puppies who are very mouthy, lack focus or don't like to be handled Adolescent dogs who are over stimulated, rambunctious and hard to control on leash

Aggression issues with people or other dogs

Separation anxiety, noise sensitivity and other fears and phobias

Service, show or athletic dogs who underperform due to nervousness or lack of confidence

Dogs who are recovering from injury or illness

Older dogs with stiffness or pain from arthritis or hip dysplasia... and much more




Why we love Dr. Dunbar? ...puppies puppies puppies!!


DogStarDaily.com

Veterinarian, animal behaviorist, and dog trainer, Dr. Ian Dunbar received his veterinary degree and a Special Honors degree in Physiology & Biochemistry from the Royal Veterinary College (London University) plus a doctorate in animal behavior from the Psychology Department at UC Berkeley, where he researched the development of social hierarchies and aggression in domestic dogs. He has authored numerous books and DVDs about puppy/dog behavior and training, including AFTER You Get Your Puppy, How To Teach A New Dog Old Tricks and the SIRIUS® Puppy Training video.

In 1982, Dr. Dunbar designed and taught the world's very first off-leash puppy socialization and training classes -- SIRIUS® Puppy Training. Subsequently, he created and developed the San Francisco SPCA's Animal Behavior Department, the American Kennel Club's Gazette "Behavior" column, which he wrote for seven years, and the K9 GAMES®, which were first held in San Francisco in 1993 and continue as annual events in Japan and France. He hosted the popular UK television series Dogs With Dunbar for five seasons and has appeared on numerous radio and television programs, including the Today Show (US) and Dash Village (Japan).

Additionally, Dr. Dunbar has consulted on a variety of movies -- full-length features, documentaries and animation (including Pixar's UP) and he has twice spoken at the prestigious eg Conference.

Over the past 35 years, Dr. Dunbar has given over 1000 seminars and workshops around the world for dog trainers and veterinarians in an effort to popularize off-leash puppy socialization classes, temperament modification, and owner-friendly and dog-friendly dog training.

After he founded the

Association of Pet Dog Trainers in 1993

, Dr. Dunbar was inducted into the Dog Fancy Hall of Fame along with four of his heroes, James Herriot, Konrad Lorenz, Lassie, and Balto. Currently, Dr. Dunbar is President of the Assciation of Pet Dog Trainers Foundation, Top Dog of the Center for Applied Animal Behavior and Vice President of www.dogstardaily.com -- a free online, multi-media puppy raising and dog training website.