| | |
| --- | --- |
| | "Vivian provides a modern and kind approach to dog training based on overlapping and related evidence based canine science. A multi disciplinary approach allows for humans and their pet dogs to manage expectations and ultimately maintain a trusting human-dog bond." |
Experience, Certifications, Advanced Training, Memberships & Associations
Council of Certified Professional Dog Trainers
#1133159 (www.ccpdt.org)
Dog Training Experience
Center for Canine Behavior Studies, Volunteer Consultant 2017
Animal Behavior College Authorized Mentor Trainer, 2017
Pets for Vets, Specialized Trainer 2016
Board Member, New England Dog Training Club (AKC Club Established 1956), 2015
Lead Trainer Canine Good Citizen Steps Program, New England Dog Training Club, 2011-Present
AKC Canine Good Citizen Evaluator 2011-Present
MSPCA Safe Walk Volunteer Walker and basic manners trainer 2010-2012
Advanced Behavior and Dog Training Specialized Workshops/Courses:
Karen Pryor Clicker Expo, CT 2017
Wolfpark Advanced Trainers Workshop with Ken McCort, IN Summer 2016. Wolfpark.org is dedicated to behavior research and is located in Lafayette Indiana. Attended the first successful workshop allowing participants unprotected enclosure to train with five species including grey fox, red fox, wolf, coyote and bison
​Dognition Emotion and Dog Cognition Course, Dr. Brian Hare Duke University 2015
Dog-Dog Group Dynamics Seminar (hosted), Sue Sternberg, 2014
Dr Susan Friedman Applied Behavior Analysis Course Living and Learning with Animals, 2013
Behavior Adjustment Training Instructor Workshop, Grisha Stewart, 2013
Sociability vs Aggression, Sue Sternberg, 2013
Dognition Trainer Program, Dognition Evaluator 2013
Kids & Dogs Pitfalls and Potentials (hosted), Colleen Pilar/Jen Shryock 2013
Instructors Training Course Sue Sternberg & Pia Silvani 2013
History, Ethology and Behavioral Biology of Dogs, Ray Coppinger & Kathryn Lord, 2012
Understanding and Preventing Canine Aggression, AAVSB 2012
Dr Ian Dunbar Behavior & Aggression Workshop, 2012
AKC Instructor, Puppy S.T.A.R./Canine Good Citizen/Urban Canine Evaluator # 89566
Professional Memberships:
Council of Certified Professional Trainers #1133159
International Association of Animal Behavior Consultants
Business Education:
Masters Science Communication Management, Simmons College
Bachelor of Science in Economics, Suffolk University
Reducing Stress in Canine Friends, 2014 published article
All Employees and Services Provided are Insured by Business Insurers of the Carolinas
Boston K9 Concierge Pet Care Associates are each personally trained on Canine Stress Signals, Equipment handling and Red Cross First Aid and Safety for Dogs.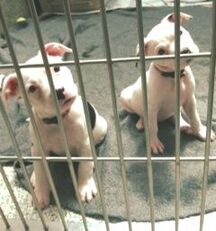 Early on in my dog training career while studying canine science, taking courses, and volunteering at a local shelter to gain practical experience with dogs, I met these pups pictured on the left. Like many these two were from a litter surrendered to the shelter. To this day I'm haunted by my experience. Not because of the smells, sights, and heart wrenching cries, but because of the reasons for relinquishment for many. No house training, inappropriate urination, jumping up on people, pulling on walks, lunging at people, separation anxiety, barking even not fitting in a purse anymore. While its true not all dogs make good pets and living for life in a shelter is not the answer, in the end (with some exceptions) its really the human that fails the dog not the other way around. Unrealistic expectations, poor planning, not meeting the dogs basic needs, using fear, force or intimidation to communicate and train, not training, remaining blind to their intellectual abilities and emotional communications.
More than ten years have passed since I took this picture and made the decision to dedicate my professional career and life to understanding the science of dogs and helping their people. Where this journey takes me I haven't a clue but I do know I am enriched and challenged every day working with dogs and their people. The science is ever changing and improving and I know I'm making a difference by helping dogs and their people understand one another and live together for life. Thank you for choosing science based, humane positive reinforcement training. And thank you for making a difference in your dogs life." Vivian Zottola, Certified Professional Dog Trainer and Certified Behavior Specialist
---