Walking Clients Testimonials
Spring 2016 Matt B.
Waterside Place Seaport Boston, MA
​Vivian and her Boston K9 Concierge Walking team have been wonderful. Our dog Henry is really friendly and adorable but can sometimes show fear aggression—mostly when "his humans" are away and someone comes to the house. The entire team at BK9C has been patient with Henry and has never risked exacerbating the situation by pushing too hard; instead they have continually given us suggestions and tried new tactics and to get him to be more comfortable and to look forward to going on walks! We highly recommend everyone at BK9C.
city dog walking experts!

Dogs From Across the Pond Love BostonK9Concierge! 5/22/2012 Ralph H. says Cruiser and I are about to get on the plane to go back to England and wanted to send a quick note to you Vivian. Thank you for helping to make our nine months in Boston enjoyable. Cruiser will always remember those walks with you and the tasty treats you spoiled her with!! and I will always cherish the photos and your kindness. I greatly appreciate your thoughtfulness. Thank you for everything and best wishes


Happy Dogs, Happy Parents
4/11/2012 Vinny F. says: Crash and Enzo love walks with Vivian and crew. Our occasionally neurotic Enzo was happy to see her, and pokey Crash was energetic. Both of us were happy to see frequent picture messages letting us know that our little monsters were having a good time while we were out of town. Vivian will be our first call next time we are out of town!

Very satisfied!
3/8/2012 Meghan F. says: I have used the Boston K9 Concierge for my Chihuahua to stay overnight on several occasions and it has been a wonderful service. Vivian keeps me very informed by sending picture texts and updates throughout the day which is such a blessing when you are away. She provides one on one care and I know my dog is in the best hands with her. I would recommend Vivian and her services to anyone.


No worries!
12/8/2011 Matt N. says: Always available and never a problem! I have been using Boston K9 for almost a year now and with my crazy work schedule I can always count on my dog getting her walks from this service. The picture text messages they send me are a great way to let me know they've made it there and my dog's gotten her walk. Plus its always great to see my smiling pup in the middle of the day! Bottom line: Good communication, great availability, excellent customer service.


Highly Recommend!!
10/8/2011 Jennifer W. says: I live in South Boston and have relied on Boston K9 Concierge on several occasions for pet sitting. Vivian and her team are fantastic! I actually decided to hire them as a full time walker for my Boston Terrier Guapo! The text and daily communication are a huge relief while I am at work and away from my little guy. I can see a difference in his behavior and like that he gets a chance to interact with other dogs on a more regular basis. I highly recommend Boston K9 Concierge!


Completely Reliable!
9/8/2011 Jeannie B. says: I live on the Hill with my Portuguese Water Dog Ralfie as my only companion. He's older, so requires a bit more TLC. Vivian walks him several times a day on weekends, even in Hurricane weather. I enjoy her company as much as knowing that Ralfie is well taken care of. Great Service 9/8/2011 Brett J. says: We highly recommend Boston K9 Concierge, our Bull Mastif is 10 years old and needed more attention than your average dog walk. We recieved pics every morning and night with updates. It was great to know while on vacation we had someone watching our dog who really cared and took extra time with him.


MY DOG LOVES BOSTON K9 CONCIERGE!
8/12/2011 Francesca L. says: Yesterday was my first experience with Boston K9. My French Bulldog puppy, Stella, had a fabulous time! She is only 10 weeks and Vivian not only takes her on an appropriate puppy style walks, she also teaches her tricks and commands. I can already see a difference in Stella. It made my day when Vivian sent me a picture text of her and Stella. I felt better being at work knowing my dog was in good hands and was having fun! Thank you Vivian!


The Best Service!
4/29/2011 Sharon K. says: I was in Boston for a conference. The hotel recommended Boston K9...I was so happy they did! My little guy had a great time. Vivan was outstanding - communicating with me via text...sending me photos and updates of the wonderful time he was having. At the days end he was even dropped off in his Boston K9s' car service. It was worth every penny...HIGHLY recommend.

---

July 2011

Anne M., Rockland ME


Guest @ Copley Fairmont Boston

Dear Vivian

Too many days and weeks have passed where I should have written to you sooner! Thank you SO MUCH for your Pet Car Services! We had such a great stay in Boston because of your business. The Copley is very fortunate to be working with you. Your associate Arielle is a sweet, responsible and caring young lady. It was truly my pleasure to leave Cadence with her. After meeting you both I had the utmost confidence leaving Arielle in charge of him. He had a great time being walked all over Boston and it was really special to receive photos of their excursions. Again, thank you for making our stay in Boston truly a memorable and wonderful experience! I will definitely use your services next time we are in town!

Sincerely- Ann M

Name: Joey
Age: 6 yrs
Breed: PWD dog
Location: Beacon Hill

Mrs. K from Beacon Hill wirtes....

"Vivian, you are the best thing that has happened to Joey and me ever. I so appreciate all you are and all you do for us and others! Thank you for being in ou lives. Anne

---

Name: Lola!
Age: 10 yrs
Breed: teacup Maltese
Location: Beacon Hill

Suzanne from Beacon Hill writes..


"Lola has been taken care of by Vivian since she was a baby. We can't say enough about how wonderful she treats Lola and how much Lola loves her!" They are extremely professional and kind. BostonK9Concierge is amazing!

---

Name: Riley
Age: 6 years
Breed: Beagle
Location: South Boston

Sabrina from South Boston, MA writes..

I walk by Vivian's office everyday but never really thought about getting a dog walker. I decided to give it a try, just to see if Riley's behavior would calm down. I'm happy to report that it has worked wonders! He loves Aunt Viv!! What a life saver. She has been so flexible and willing to do whatever it takes to work around my schedule and make sure Riley is a very happy pup. I completely trust her and her helpers 100% and would recommend her services to anyone. She truly loves animals and her dedication to her work is evident. Riley stops at her door looking for her every time we walk by. Thanks so much for all your help!

---

Name: Tyson!
Age: 4 months
Breed: Cockapoo
Location: South Boston


Meghan B from South Boston, MA writes...

"Vivian at Boston Canine Concierge has literally been a lifesaver for me. Vivian was recommended to me by a local pet shop owner, and upon meeting her I immediately knew why. She has been so amazingly helpful and wonderful with my rambunctious 3-month old cockapoo. From the minute I met her, I could tell Vivian would treat my dog as her own, and she certainly has! She is warm, dedicated, responsive and most importantly, amazingly patient with my sometimes out-of-control puppy. I consistently get text and picture updates from Viv about my puppy's walks and his activities at daycare. This is extremely reassuring for an overprotective pet owner like me! If you are looking for a dog walker, dog sitter or doggie daycare, look no further than Boston Canine Concierge. I give Vivian my highest recommendation, and have no doubts you will as well."

---

Name: Val
Age: 2 yrs
Breed: Red haired Lab
Location: North End


Andy M. NorthEnd Boston, MA
"These two are great (Boston Canine Concierge)! I was forced to get a last minute flight out of town and they were very accommodating. My dog, Valkyrie, was in high spirits when I got back 5 days later and I got a picture message twice a day to check in on her! I will not consider any other service for my dog in the future. Thank you both so much for taking such personal care of Val! "

---

Name: Tia
Age: 3 yrs
Breed: American Eskimo
Location: Dorchester

Eunjee from Dorchester writes..

"Tia our 3 year old blind american eskimo goes to day care 2 days a week and LOVES it! She waits by the door for Vivian to pick her up in the mornings, and enjoys riding in the boston K9 concierge van with all her friends. I was very hesitant to send Tia anywhere because of her disability, but Vivian has been so caring, trust worthy and professional. I know that she is being taken care of. Vivian works hard to give personal attention to each of her clients, and I enjoy the little pictures and texts I get during the day about Tia. Thanks Vivian."

---

Name: Dixie
Age: 4 yrs
Breed: Schnuzer/Pincher Mix
Location: South Boston

Caroline from South Boston, MA writes...
"About a week before our wedding on 1/16/11, my husband and I found ourselves frantically asking "what about Dixie?!". We admit to treating her like our child and obsess over her a bit, especially when it comes to leaving her in the care of others. So when we realized that all our trusted friends and family were unavailable we panicked. A kennel was absolutely out of the question and with mixed reviews on what seems like endless lists of pet hotels online we weren't totally comfortable with that option either. Our answer was almost staring us in the face. Just around the corner was a discreet sign hanging outside a cozy cage-free home environment. My husband contacted Vivian and she was accommodating from the start. When I met her soon thereafter, not only was she reassuring, but Dixie took to her immediately! Vivian took exceptional care during our time away from home, walking her, loving her and introduing her to her new best friend Jim the Shih tzu! Throughout their time together, Vivian sent regular text and picture messages so we knew that she was having a good time and we could enjoy ours! When we picked her up she was playing around and happy.

I can't say enough how great it was to have the peace of mind Vivian gave us. She gave us a nice card wishing us well in our new lives together and I wish her all the best with K9 Concierge!"

---
Name: Bosco Age: 4 months
Breed: Miniture Schnauzer
Location: Charlestown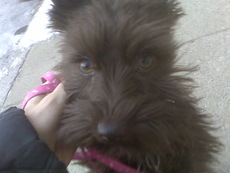 Dylan from Charlestown writes....

"We needed someone to watch our new puppy at the last minute so I called Vivian to see if she could help us out. She called me back right away and was the sweetest person on the phone. She came to our house over the weekend to meet our puppy Bosco, immediately sat on the floor, and started playing with her. Our schedules change a lot and I'm often calling Viv at the last minute to see if she's available to pay Bosco a visit. Whether we just need her to stop over, feed Bosco, and take her for a walk...or whether Bosco needs to be picked up for sitting a few hours in the day, then dropped off, she's always accomodating. We're never left wondering if she showed up on time because the second she gets to our house, she texts us a picture of Bosco so I know she's being cared for. Bosco has a blast at daycare and is always totally wiped out by the time she gets home, which is nice after a long day of work! I can say nothing but wonderful things about Vivian and Boston K9 Concierge and how much she helps us out in a pinch. She's a very sweet and pleasant woman to work with and I feel very comfortable leaving Bosco in her care."

---
Name: Kaylie Age: 5 months
Breed: Standard Poodle
Location:Guest Visiting Bethesda, MD

Nancy G. from Bethesda, MD writes..

I was traveling to Boston for the holiday. After finding out our puppy would have to sit in the car while at our family Christmas dinner, I found Canine Concierge on Craig's list the day before Christmas . Vivian responded almost immediately with both a call and an e-mail, and was totally flexible about working around our plans for both Christmas and the day after. She offered to take our puppy along with her to her family Christmas, which sounded much better than leaving her alone in a crate! We could not have been happier with the responsiveness, flexibility, warmth, and care our puppy received with Boston Canine Concierge. We even got a text and photo update while she was with them. I would highly recommend this business and wouldn't hesitate to use them again. -

---

Name: TeTe Age: 9 years
Breed: Shihpoo
Location: Waltham

Rosanna Z. From Waltham, MA writes
"Our dog TeTe is a pretty tough cookie always barking but she loves being with Vivian of Boston Canine Concierge and comes back pretty relaxed and in a good mood after being with them all day. We highly recommend Vivian. " - .

---
Name: GUS (not a dog)
Age: unknown but the purrfect kitty.
Location: Brookline


Lauren J from Brookline, MA writes...

"I was stuck in Chicago due to the blizzard in Boston and I was really worried about my cat. I was not sure if I had left enough food and water for 6 days (we were only supposed to be gone 3 days). I saw Vivian's post on craigslist and I immediately sent her a message. She responded very quickly and even helped get a hold of my landlord. She sounded genuinely concerned about my cat (Gus) and offered to go to my landlord on Monday, even though the weather conditions were still very dangerous. Unfortunately, my landlord's office was closed. Vivian promised that she would drop by the landlord the next morning. As promised, I called the landlord in the morning and Vivian went there first thing, waited for them to make a key, and then came by my apartment to give food and water to Gus. She even sent me a picture of Gus to confirm that he was doing okay. I am so grateful that Vivian responded very quickly to my message, especially since it was a holiday weekend and there was a blizzard. You cannot put a price on a reliable and trustworthy pet sitter. Next time I go out of town, I will definitely be using Boston Canine Concierge. ~

---

Name: Chaps Age: 3 yrs
Breed: West Highland Terrier
Location: Cambridge

Patti I, from Cambridge, MA
"It was the holidays. We needed a break. Oops THE DOG! We found Boston CC on Craig's list and we couldn't have been more pleased. Vivian came out immediately and was both professional and caring. Chaps came home pooped but we know he had a great time! BCC is a great resouce!"

---
Name: Amanda Age: 1.4 years
Breed: Hound Mutt
Location: W.Roxbury

Leonor F from W.Roxbury MA writes..
"We met Vivian from Boston Canine Concierge after looking her up on Craig's list. . Vivian was outstanding! She is professional, punctual, reliable, and treated our (somewhat rambunctious puppy) dog as if she were her own. She came over to meet our family right away and noted all important data (emergency contacts/vet/meds/etc) Her demeanor is warm and she is a natural with people AND with dogs. She took loving care of our dog every day, sending us updates during our weeklong time away, and even letting us know about some parcels that were delivered to our home. I would HIGHLY recommend her and I plan to ask for her help again."

---

Name: Lola Age: 1.8 years
Breed: Long Haired Shepard
Location: Waltham

Sabrina Waltham, MA
"Vivian and Boston Canine Concierge has been a great help to us on a number of occasions throughout the years. We've always been able to count on them. We have busy schedules and can always count on her to be there when we need her. Lola is a ball of energy and we know she can be a little too much at times but when ever she's taken care of by Vivian she always seems to become calmer afterward. She's the east coast dog whispherer !" -

---
Name: Roxy Age: 9 yrs
Breed: Lab
Location: South Boston

Maren K. South Boston, MA "I have had the pleasure of living next door to Vivian's office for about a year and a half now. She is always friendly, genuine and a fabulous dog owner. She is the kind of person that can't help but go the extra mile to make absolutely sure she is doing the best job possible! I am the single parent of black lab mix so I was excited to hear she was opening the doors of Boston Canine Concierge and almost immediately needed her help. Vivian has been extremely accommodating even on short notice. Her prices are totally reasonable and she is extremely reliable and trustworthy. Roxy looks forward to greeting her and her 3 dogs when we pass by and I know I can count on her when I work long hours. What a relief! Thank you Vivian!!!"

---

Name: Casey Age:14 years!! God Bless!
Breed: Golden Retriever
Location: Charlestown

Erin C. from
Charlestown, MA
"THANK YOU SO MUCH Vivian for taking fantastic care of Casey!"

---
We are always open to great ideas and suggestions to continue improving. Your Tailimonials are welcome ...please email us
Find Our Shop!
​202 K Street
South Boston, MA 02127
617-464-1005
Located off East BroadwayCorner of East Broadway/E3rd

Business Hours
​In Home Private by appointment
Group Puppy Training by appt Weds evenings & Saturday morning
Daycare Training Camp Tues, Weds, Thurs 10-2PM
Sunday Closed

All Services by appointment only
Insured & Bonded Services Business Insurers of the Carolina's


---

Disclaimer: Our service and products sold are not intended to diagnose, cure or prevent any disease. There is no guarantee of behavior change. If a sudden behavior or behavior persists, please first contact a qualified Veterinarian, Certified Applied Animal Behaviorist, DVM Behaviorist . The information provided by this website or this company is not a substitute for a face-to-face consultation with a veterinary health care provider, and should not be construed as individual medical or veterinary advice. The testimonials on this website are from individuals and do not guarantee or imply the same results.
---
© 2017 Boston K9 Concierge LLC