Registration for Group Puppy Classes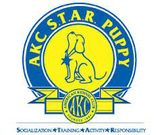 About Group Puppy Training Program
Program is 6 lessons and each session runs for 60 minutes.

Sessions are held Saturday afternoons (2PM) at 363 Tremont St, Boston, Ma or Friday evenings at 7PM.
Open enrollment format so first come first serve

Each Class will hold only 4 puppies only

After completing 6 sessions you are eligible to test for AKC Puppy S.T.A.R. This is optional

The Program fee is $360 for a limited time only
What You and Your Pup Learn:
The Behavior Puppy Training program includes AKC Puppy S.T.A.R. Basic Manners

Manners include Sit, Wait, Come when called, Loose Leash Walking, Walking with Distractions. See brochure below

We go beyond basic exercises and teach you and pup safety, impulse control and confidence building

Desensitizing Puppy to Crate, Crate Training,

Touch, Handling and City Sounds

Husbandry exercises including basic and dental hygiene, nail filing/clipping and massage

We will review Communication and Creating Dialogue as well as learning Stress Signals

Puppy Training Program Members receive


Free access to our online training videos, supporting documents & Trainers help line
10% Discount on Training Equipment and Products sold by BostonK9Concierge,
20% Discount on Dognition Assessment Toolkit (a scientific test used to determine how your dog thinks. See Dognition.com
Registration
Your pup MUST be between 8 weeks -5.5 months

Your pup has started vaccination series (Parvo and Bortedella Vaccinations)

You must provide a $50 non refundable deposit

There are no refunds only merchandise credit

We make concessions if a group class is to overwhelming for pup by transferring you to private classes

We offer an open enrollment registration format and honor Dr. Brian Bourquins clients first
If you know a Group Class is not for you, we Offer Private In Home Puppy and Behavior Learning/Training Sessions. For more information please see In Home Puppy Classes at our Dog Training Page or please call 617-464-1005.
About your Trainer:
Vivian Zottola, is a Certified Professional Dog Trainer, AKC Canine Good Citizen Evaluator, AKC Puppy S.T.A.R. Evaluator, Familypaws Licensed Presenter, Small Animal Aromatherapy Practitioner and Dog Communication Specialist and Behavior Counselor.
---
Find Our Shop!
​202 K Street
South Boston, MA 02127
617-464-1005
Located off East BroadwayCorner of East Broadway/E3rd

Business Hours
​In Home Private by appointment
Group Puppy Training by appt Weds evenings & Saturday morning
Daycare Training Camp Tues, Weds, Thurs 10-2PM
Sunday Closed

All Services by appointment only
Insured & Bonded Services Business Insurers of the Carolina's


---

Disclaimer: Our service and products sold are not intended to diagnose, cure or prevent any disease. There is no guarantee of behavior change. If a sudden behavior or behavior persists, please first contact a qualified Veterinarian, Certified Applied Animal Behaviorist, DVM Behaviorist . The information provided by this website or this company is not a substitute for a face-to-face consultation with a veterinary health care provider, and should not be construed as individual medical or veterinary advice. The testimonials on this website are from individuals and do not guarantee or imply the same results.
---
© 2017 Boston K9 Concierge LLC