PolkadogBakery Treats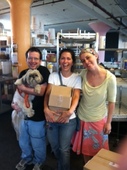 We LOVE LOVE this local business and the people who work here. Lucky for us they happen to be located right down the street from our shop! Yes lucky are we..just like the yummy lucky ducks they sell! We personally know Deb the owner, Krystina the fabulous Cookie maker Phil who's been making these fabulous treats for 10 years! We can fulfill your orders and have them to you within a few days. Call us or shop below for products!
We sell all of their products so if you don't see something just send an email or call 617-464-1005. Price includes tax. FREE Delivery only 2 mile radius from shop
.
---
All treats are made with USDA approved ingredients and are dehydrated on site at Polka Dog Bakery in Boston, MA.
Chicken Strip Jerky 4oz

Pure Strips of Dehydrated Chicken Breast using Chicken that is sourced from local suppliers and raised on U.S. Farms. All Chicken is stripped and dehydrated on the premises of Polka Dog Bakery's kitchen in Southie. These strips come highly recommended by dogs in need of a little more "obedience" that will listen to absolutely anything, anything, you say if a Strip is coming next. 100% Pure Natural Chicken with no added ingredients. Price includes Mass Tax
---
Sfitzi Chicken- discounted 3lbs or over
LOVE these!! they are the perfect size treat for training - the perfect size to pop in your treat bag or pocket. Sold in Bulk 8-16 oz at $1.50 per ounce; 3 lbs or more @ $1.25 per ounce. Prices below include Mass State Tax.
---
Sfitzi Duck Duck Duck discounted 3lbs or over
Find Our Shop!
​202 K Street
South Boston, MA 02127
617-464-1005
Located off East BroadwayCorner of East Broadway/E3rd

Business Hours
​In Home Private by appointment
Group Puppy Training by appt Weds & Friday evenings
All Services by appointment only
Insured & Bonded Services Business Insurers of the Carolina's


---

Disclaimer: Our service and products sold are not intended to diagnose, cure or prevent any disease. There is no guarantee of behavior change. If a sudden behavior or behavior persists, please first contact a qualified Veterinarian, Certified Applied Animal Behaviorist, DVM Behaviorist . The information provided by this website or this company is not a substitute for a face-to-face consultation with a veterinary health care provider, and should not be construed as individual medical or veterinary advice. The testimonials on this website are from individuals and do not guarantee or imply the same results.
---
© 2017 Boston K9 Concierge LLC