"Safety through education....
Working with families to help keep their children and dogs safe is so important to me on a personal level. My approach is to work with parents and expecting parents to teach them all about their pet. How dogs communicate, their stress signals, proper physical and mental exercises, how to plan and prepare for changing dynamics in their family. Development stages for children create and present new challenges which I help parents through. It can all be managed with preparation and awareness.


---
Vivian Zottola,CPDT-KA is a Licensed Presenter of Dogs & Storks® & The Dog & Baby Connection™ offering families ...
Answers to questions about babies, toddlers and safety

Thorough preparation and prevention

Ongoing support through your baby's first year

Must-know information for parents who have toddler-age children and dogs

Advice about common trouble spots between toddlers and dogs in a home

Practical solutions, from do-it-yourself techniques to hands-on help

Insight into how your changing family dynamics may affect your dog

The Dog & Baby Connection™ program was created by a certified dog behavior consultant and mother of four.
---
Client Testimonial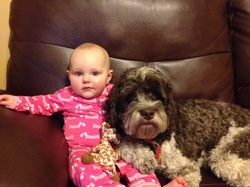 We contacted Viv when summer of 2013 when I was 5 months pregnant so we could prepare our dog, Eddie, for the baby's arrival. Eddie is our first baby. From the start Viv was very attentive to Eddie's need as well as our concerns about his behavior. She worked very closely with us to teach us alternative behaviors that would be safer for me still carrying my child and for the months to come. Eddie had been adopted and we had taken basic manners training but didn't keep up. She gave us a refresher of the basics including waiting, no jumping and offered useful ideas to help keep him engaged and settled. We practiced our exercises until our daughter was born. Viv was there for us when our baby was born offering to take Eddie for a few days to give us a break which was a huge help. She was also methodical about introducing Eddie and our new baby. She introduced exercises to help desensitize Eddie to babys cries and other sounds that would be different and possibly scary for hm. Viv assigned useful, realistic homework and held us accountable. Due to Viv's motivation and the right training tools she provided we started to see a change in Eddie immediately. Viv was always available and made sure she had the right training techniques so that we felt our needs and Eddie's needs were being met. Even if you aren't expecting a new baby I would highly recommend Viv for basic training needs as well. Eddie now walks twice a week with Viv's team and I really think he looks forward to it!
- Taryn M. S.Boston, MA


---
---
Kissing your dog sends mixed messages to your children....

Jennifer Shryock, (Dog Behavior Consultant and Founder of the international programs Dogs & Storks and Dog & Baby Connection) and her husband Joe discuss the reasons why its not such a good idea to kiss your dog on the mouth in front of children. Young children model adult/parent behaviors and should never be encouraged to kiss or hug dogs. Human/primate ways of showing affection is not acceptable to dogs. They do tolerate it but they do not like it. We encourage you to resist the temptation to kiss in front of your kids. There are other ways to show affection...watch and learn.
---
Find Our Shop!
​202 K Street
South Boston, MA 02127
617-464-1005
Located off East BroadwayCorner of East Broadway/E3rd

Business Hours
​In Home Private by appointment
Group Puppy Training by appt Weds evenings & Saturday morning
Daycare Training Camp Tues, Weds, Thurs 10-2PM
Sunday Closed

All Services by appointment only
Insured & Bonded Services Business Insurers of the Carolina's


---

Disclaimer: Our service and products sold are not intended to diagnose, cure or prevent any disease. There is no guarantee of behavior change. If a sudden behavior or behavior persists, please first contact a qualified Veterinarian, Certified Applied Animal Behaviorist, DVM Behaviorist . The information provided by this website or this company is not a substitute for a face-to-face consultation with a veterinary health care provider, and should not be construed as individual medical or veterinary advice. The testimonials on this website are from individuals and do not guarantee or imply the same results.
---
© 2017 Boston K9 Concierge LLC