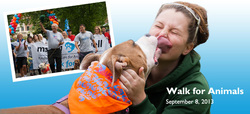 Bigger, better, and more doggone, kitty-licious, high-flying fun than ever before, the MSPCA-Angell Walk for Animals will be held on the Boston Common Parade Grounds at the corner of Charles and Beacon Street on Sunday, September 8, 2013. This year there are more animals than ever before who need our help, and we're not going to let them down.
Protecting animals is a serious business, but this is a day when we all let our love for animals dissolve into pure joy! Get creative, get a little crazy, but most of all get going! If you start now you have the best chance to help the most animals. For more information, to donate, join a team etc go to the
MSPCA walk for animals page
---
South Boston Street Festival
Saturday September 14

more information tbd
---
Somerville Dog Festival
Sunday September 15th Trum Field, 10am-3pm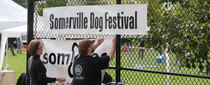 The Somerville Foundation for Animals proudly presents the 4th annual Somerville Dog Festival! Once again, it will feature an exciting array of dog sports demonstrations as well as a one-of-a-kind opportunity for the public to try these activities with their dogs. There will also be the ever-popular
fashion show
,
best trick contest
and
best dressed dog
contest. Admission is free but monetary donations as well as pet care items (including pet food, collars, leashed, carriers) will be accepted at the gate. We hope you enjoy the day with us! For safety, only well-mannered dogs on-leash (no flexi leads, please) and current on vaccinations are invited.
Sincerely, Adam Parker, D.V.M. - Porter Square Veterinarian
President, Somerville Foundation for Animals
---
New England PetExpo Saturday Sept 21 10a-6p Aleppo Shriners Auditorium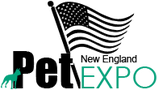 THIS IS A FREE EVENT!!
BostonK9Concierge Joins Massachusetts Canine Professionals Club as exhibitors providing
JAKC Canine Good Citizen evaluations in the auditorium during the Pet expo.
Call for appointments: (781) 249-5236. Your dog can take the 10-step basic manners test and a passing score gives your dog the special certification as a Canine Good Citizen. This certification helps dogs and owners gain respect in their community.
More info about the event click here
---
Find Our Shop!
​202 K Street
South Boston, MA 02127
617-464-1005
Located off East BroadwayCorner of East Broadway/E3rd

Business Hours
​In Home Private by appointment
Group Puppy Training by appt Weds & Friday evenings
All Services by appointment only
Insured & Bonded Services Business Insurers of the Carolina's


---

Disclaimer: Our service and products sold are not intended to diagnose, cure or prevent any disease. There is no guarantee of behavior change. If a sudden behavior or behavior persists, please first contact a qualified Veterinarian, Certified Applied Animal Behaviorist, DVM Behaviorist . The information provided by this website or this company is not a substitute for a face-to-face consultation with a veterinary health care provider, and should not be construed as individual medical or veterinary advice. The testimonials on this website are from individuals and do not guarantee or imply the same results.
---
© 2017 Boston K9 Concierge LLC