Client Training Testimonials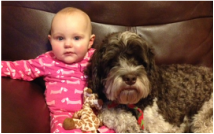 Kids & Dogs
We contacted Viv in the summer of 2013 when I was 5 months pregnant so we could prepare our dog, Eddie, for the baby's arrival.
Eddie is our first baby and from the start Viv was very attentive to Eddie's need as well as our concerns about his behavior. Eddie had been jumping and showed some excitable behavior around kids. We were nervous about the jumping on kids. Viv worked very closely with us to teach us alternative behaviors that would be safer for me while I was still pregnant with my child and for the months to come. Eddie had been adopted and we had taken basic manners training but didn't keep up. She gave us a training "refresher" on the basics including waiting, no jumping and other useful ideas to help keep calm and settled. We practiced our exercises until our daughter was born. Viv was there for us when our baby was born offering to take Eddie for a few days to give us a break which was a huge help. She was also methodical about introducing Eddie and our new baby. She introduced exercises to help desensitize Eddie to babys cries and other sounds that would be different and possibly scary for hm. Viv assigned useful, realistic homework and held us accountable. Due to Viv's motivation and the right training tools she provided we started to see a change in Eddie immediately. Viv was always available and made sure she had the right training techniques so that we felt our needs and Eddie's needs were being met. Even if you aren't expecting a new baby I would highly recommend Viv for basic training needs as well. Eddie now walks twice a week with Viv's team and I really think he looks forward to it!
-
Taryn M. S.Boston, MA
---
Find Our Shop!
​202 K Street
South Boston, MA 02127
617-464-1005
Located off East BroadwayCorner of East Broadway/E3rd

Business Hours
​In Home Private by appointment
Group Puppy Training by appt Weds evenings & Saturday morning
Daycare Training Camp Tues, Weds, Thurs 10-2PM
Sunday Closed

All Services by appointment only
Insured & Bonded Services Business Insurers of the Carolina's


---

Disclaimer: Our service and products sold are not intended to diagnose, cure or prevent any disease. There is no guarantee of behavior change. If a sudden behavior or behavior persists, please first contact a qualified Veterinarian, Certified Applied Animal Behaviorist, DVM Behaviorist . The information provided by this website or this company is not a substitute for a face-to-face consultation with a veterinary health care provider, and should not be construed as individual medical or veterinary advice. The testimonials on this website are from individuals and do not guarantee or imply the same results.
---
© 2017 Boston K9 Concierge LLC