About Vivian & Starting Boston K9 Concierge Life is all about transitions...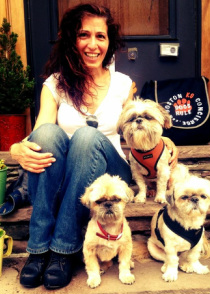 Vivian Zottola CPDT & Founder
ForMy formal transition from to the "world of the dog" began in 2005 when I was gifted a Shih Tzu puppy we named Coco. Six months later siblings Jimmy Choo and Stella both related to Coco were adopted. My plan was to gift Jimmy to mom for her 75th birthday but much to my dismay she expected a trip to Italy instead of an adorable fluffy puppy with a red bow tied around his neck.Not surprising three months thereafter he was gifted back.
Lesson 1 Check.
I had made my first mistake Never Gift a Puppy to someone without first evaluating their needs and age. What was I thinking pairing up a senior with a spunky pup that would need so much time and attention? And so being brought up by a family with traditions, values and solid work ethic seared into our DNA I had to ensure the dog would be safe. Jimmy Choo would join Coco and Stella becoming my responsibility. I made a commitment to care for each one and keep us together for life. And so it was, my journey as a trainer in the "world of the dog" began. These dogs literally became my life work. A true labor of love.
A dog aficionado and lover of animals it was only in 2009 after thoughtful consideration that I started a dog training and walking service in Boston. And so I held my nose, and with eyes wide open jumped in to marry my new business Boston K9 Concierge.
In 201
0 the business was formally
licensed, insured and bonded offering Boston City dwellers dog walking, dog training, overnight personalized sitting and family safety/educational services. Any free time I had in between working with my clients dogs and taking care of my own family would be applied toward learning all about dogs. Instilled in me as a young person was importance of working hands on to learn. And so in conjunction with my formal dog studies, thousands and thousands of hours were clocked volunteering at Boston Animal Shelters, interning at the New England Dog Training Club (www.NEDTC.org) , mentoring with exceptional AKC Obedience Dog Trainers, attending dog behavior workshops all over New England, teaching my staff the art of dog handling and working privately with my client dogs.
Of all the dog training to date, none has left a deeper mark on me

and been as difficult to stomach than the volunteer work experienced at dog shelters. Friday mornings at the crack of dawn I would get myself over to the busiest Shelters in Boston. I did this for four years every Friday morning rain or shine, sleet or snow. And each Friday morning regardless of how prepared I was to enter the facility upon doing so I would be overwhelmed with the urge to throw up. My body convulsed but my mind willed me to continue on with my mission of learning. The

unpleasantness

wasn't because I had to get up at 5 AM to get there, and not because the Director of the shelter was intimidating and seemed miserable, nor was it because of the stench of the cold interior with metal cages and cement walls. It was the sound of dogs crying that was hard for me to take. The tearful howling that echoed through the halls. The sound haunted me for days after my shift. I couldn't shake it off. Leaving the facility meant walking down a long cement corridor with low lighting filled with sounds of howling dogs coming from the receiving room. Dogs held in receiving would often be crying for their guardians. And while I couldn't pretend to say I knew what they were thinking I could hear how they were feeling. I heard fear and sadness. While its not scientific only anecdotal

I know these dogs were missing their guardians crying because they were left behind.

. I can still hear their tearful cries. I have not forgotten them.
Shelter surrenders

happened every day. It was a common

occurrence

and frankly part of the business.

The staff were somewhat affected but not really. Its natural to become jaded when you see sadness everyday. I witnessed so
many surrenders but certainly not as many as the employed staff who came in to work every day. I admired them all for being so strong and of course caring for the dogs regardless they were getting paid. While I hated going in every Friday early morning I understood the importance of this education. The Director of the shelter was absolutely on point when she said, "Vivian, this will be the best education you'll ever get on dogs. It will be the toughest but the best way to learn about dog behavior". And she was right. It was the hardest on so many levels but the best learning experience. Working with all types of breeds, sizes, handicaps, levels of behaviors and in various conditions. Learning and understanding body language became of utmost importance and critical to my personal safety.
In conjunction to Shelter volunteer work I was offered an internship position with the oldest AKC Club in New England - www.NEDTC.org (New England Dog Training Club, Cambridge, MA). In addition to my private training practice, shelter training and training classes at the club for three hours each week I accumulated enough hours to apply and later test for my Professional Dog Training Certification (www.ccpdt.com ). I stayed true t
o my mission and kept it simple. I would learn everything there is to know about dogs. Their anatomy, psychological and physiological development. So to would I learn why people buy dogs, sell them, breed them, love them and lose interest in them. I would discover the dark side and inequity of rescue work in this country and develop such disdain for human nature.
There was and is a lot of sweat equity in dog training business but the trade off of learning and sharing with others for me is invaluable.
And when there was no time to learn, I made time to learn. Early mornings before and after work, on weekends and late into the night. A concerted and conscious effort was made on my part that consisted of two things. If I was to
invest my time and hard earned money in education it had to be education supported by Science and Reward Based Methodologies. And of course the nerdy side in me delighted at the fact that this meant I had found a career wherein I would never stop learning!! Ha! Since science is self correcting there is always room to learn and improve!.
It takes years to understand how dogs communicate with people and among themselves. Even more time to gather and hone skills which will help people learn all the while managing their expectations. Upon reflection creating my own curriculum (within the guise of the CCPDT.org ) was really appealing and I believe made me a better behavior dog trainer AND people trainer. The dog world is in part skill, knowledge, and art. It comes together only through experience. Sure you can buy online courses and read Learning Theory from a book but you have to work it and experience it to understand it. You have to learn from living it and doing your time so to speak.
Over the past 10 years or so while operating my dog walking and training business I've managed to complete multiple workshops and certifications which I'm happy to share with anyone reading this. For more information about my training see
​My journey continues! I've been formulating Essential Oil Blends learning and using them in my Training Treatment Plans which are locally made and sold. By end of 2015 I will be completed with the
Small Animal Aromatherapy Practitioner Certification Program
(
AshiTherapy.com
program is approved by NAHA.org National Association of Holistic Aromatherapy). This work includes the study and use of Dr Bach Essential Flowers. My world has opened that much more!
Happy to report my all natural essential oil therapy line for dogs is Vet Approved and slowly being introduced to more and more people who care for their pets! and looking for all natural solutions! And as a way of giving back, a percentage of each new batch is donated to the local Animal Shelters for the dogs awaiting their forever home. For more information see www.BostonK9Concierge.com and K9Aromatherapy.com or please contact me directly at: 617-464-1005 or vivian
@bostonk9concierge.com
---
Applying Proven Scientific and Reward Based Learning Techniques Throughout Our Care
Find Our Shop!
​202 K Street
South Boston, MA 02127
617-464-1005
Located off East BroadwayCorner of East Broadway/E3rd

Business Hours
​In Home Private by appointment
Group Puppy Training by appt Weds evenings & Saturday morning
Daycare Training Camp Tues, Weds, Thurs 10-2PM
Sunday Closed

All Services by appointment only
Insured & Bonded Services Business Insurers of the Carolina's


---

Disclaimer: Our service and products sold are not intended to diagnose, cure or prevent any disease. There is no guarantee of behavior change. If a sudden behavior or behavior persists, please first contact a qualified Veterinarian, Certified Applied Animal Behaviorist, DVM Behaviorist . The information provided by this website or this company is not a substitute for a face-to-face consultation with a veterinary health care provider, and should not be construed as individual medical or veterinary advice. The testimonials on this website are from individuals and do not guarantee or imply the same results.
---
© 2017 Boston K9 Concierge LLC